Did You Know That
A steam tram passed through Leopoldsburg?
extract from "Van Bourg-Léopold tot Leopoldsburg Een economisch-, financieel-, geografisch-, geschiedkundig en politiek overzicht van vroeger tot heden."
1992 - Geschied- en Heemkundige Kring Leopoldsburg vzw p/a Prof.dr. H. Matthijs
Sint-Truiden-Ceye, with extension to Borgworm and Ans (1892)
Glons-Kanne (1893), extended to Maastricht in 1894
Tongres-Lanaken (1897)
Tongres-Fexh-le-Haut-Clocher (1897)
Hasselt-Borgloon-Oreye (1899 and 1900)
Hasselt-Beringen-Leopoldsburg (1899)
Maastricht-Lanaken-Eisden-Maaseik (1898)
Hasselt-Herk-de-Stad (1900) with branch line to Halen in 1905
Tongres-Kortessem (1904)
Koersel-Schaffen-Diest (1907 and 1908)
Hannuit-Montenaken-Sint-Truiden (1909)
Maaseik-Molenbeersel-Weert (1910)
Genk-Bassenge-Herstal (1910)
Sint-Truiden-Herk-de-Stad (1913)
On 9 January 1888, the first tramway between Leopoldsburg and Bree was put into service. The official opening took place on 24 June 1888.
After Leopoldsburg-Bree, the following connections were successively established:
Limburg initially had six private companies for tram operation. As elsewhere, the NMVB took over the operation from the private companies from 1919 onwards. Of the 482 km of track, 166 km were dismantled during the First World War.
In Limburg, from 1928 onwards, the full operation was ensured by the NMVB. In 1932, the first kilometres of tramline were electrified.
In 1936, the line Hasselt-Genk was opened and from that year on, the steam trams were gradually replaced by the autorail on the Limburg lines.
Just before the Second World War, the first railway lines were abolished, the change from tram lines to buses was unstoppable.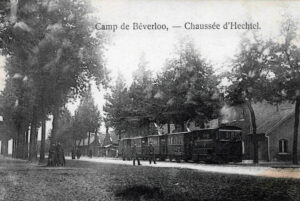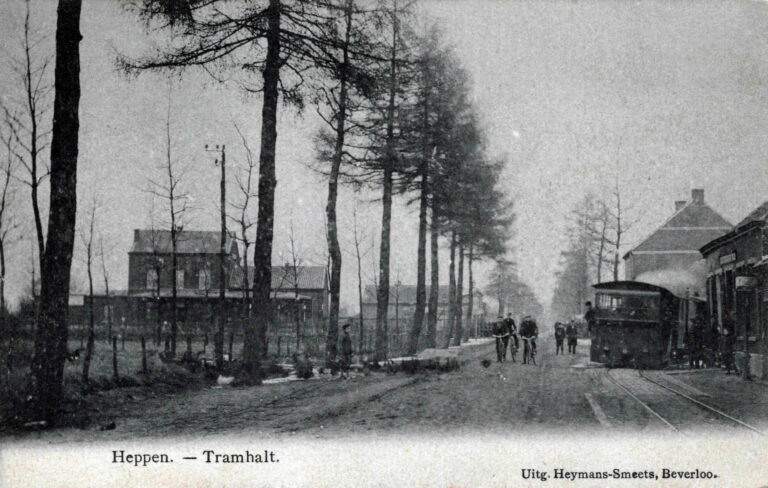 In the newspaper 'Het Belang van Limburg' of 12 June 2021, an article appeared about the Tramstraat . Click here to read it. Warning: the article is in Dutch!
This article is also available in
Nederlands